Richard Quesnel has over 40 years of senior mine management and development from resource to production. His experience includes senior positions with Consolidated Thompson Iron Mines, Ledcor CMI Limited, JS Redpath Limited, Barrick Goldstrike, Quebec Cartier Mining and Placer Dome
---
Toronto (Canada) – JOURDAN RESOURCES INC. (TSXV: JOR; OTCQB: JORF; FRA: 2JR1) ("Jourdan", "Jourdan Resources", or the "Company") is pleased to announce the appointment of Mr. Richard Quesnel as its Executive Chairman, effective immediately. Mr. Quesnel will guide the Company forward as it embarks on extensive exploration programs across three lithium projects located in Quebec, including a 20,000 meter drilling program developed in conjunction with North American Lithium Inc. ("NAL"), as part of NAL's plans to commence lithium production at its NAL mine.
Mr. Quesnel served for over 5 years as President and Chief Executive Officer of Consolidated Thompson Iron Mines of Montreal. He has over 40 years of senior mine management and engineering experience at large gold, copper, nickel and iron ore mining properties in Canada and the Western USA. He has successfully developed, commissioned, operated and expanded mining operations, both open pit and underground. Since 1979, he has also worked as a mine manager or mining engineer of several mining companies including Ledcor CMI Limited, JS Redpath Limited, Barrick Goldstrike, Quebec Cartier Mining and Placer Dome. Mr. Quesnel is also a director of Sama Resources Inc. He is a Professional Mining Engineer in Quebec and holds a Bachelor of Science degree in Mining Engineering from McGill University. Mr. Quesnel lives in Montreal, Canada.
Mr. Quesnel stated, "I am thrilled to be joining a seasoned management and technical team at Jourdan Resources. With substantial increase in market demand for lithium, and legislative support to acquire this mineral classed as 'critical' by provincial and federal governments, I believe Jourdan Resources is well positioned to contribute to the lithium market. The team is now set to initiate an ambitious exploration program at its 3 lithium projects located within the mining friendly district of Abitibi-Témiscamingue, Quebec, Canada. One of them, Jourdan Resources' Vallée project, which is located adjacent to the NAL mine, is the subject of a 20,000 meter drilling program scheduled to commence this year in partnership with Sayona Mining Ltd.'s majority owned NAL, in connection with an earn-in and joint venture agreement."
Rene Bharti, CEO of Jourdan, stated, "We are honoured to have someone with Mr. Quesnel's business and technical expertise join as our Executive Chairman. Mr. Quesnel has a very good understanding of the region, and we anticipate that his guidance will be crucial to help Jourdan implement its plans to transition from an explorer to a producer. Mr. Quesnel has a proven track record of building resource companies, and we have no doubt that he will work to do the same for Jourdan Resources."
Brett Lynch, Sayona Mining Ltd.'s CEO, stated, "Given that we have begun production at the NAL mine, this is a critical time to have someone such as Mr. Quesnel join as executive chairman and help bring Jourdan to success. Sayona and Jourdan have partnered on a portion of Jourdan's Vallé project with our recent commitment of $4 million (CAD) and an additional $6 million (CAD) investment option, and we believe Mr. Quesnel will bring invaluable expertise to the project at large. Given the infrastructure we have in place, and the proximity of Jourdan's Vallée project to the NAL mine, Jourdan is in a very rare position to potentially become a lithium producer alongside NAL. I look forward to working with Mr. Quesnel closely and helping make Jourdan a success for all stakeholders."
The appointment of Mr. Quesnel follows the resignation of Stan Bharti as a director, and Dr. Andreas Rompel as the Executive Chairman of the Company. Management and the board of directors of the Company express their gratitude to Mr. Bharti for his efforts and contributions and wish him well in his future endeavours. Dr. Rompel will remain as a director of the Company.
In addition, the Company announces that it has granted 3,600,000 stock options to Richard Quesnel pursuant to the Company's stock option plan. The stock options vest in equal quarterly installments over two years and may be exercised at a price of $0.065 per option for a period of five years from the date of grant. This grant of options is subject to the approval of the TSX Venture Exchange.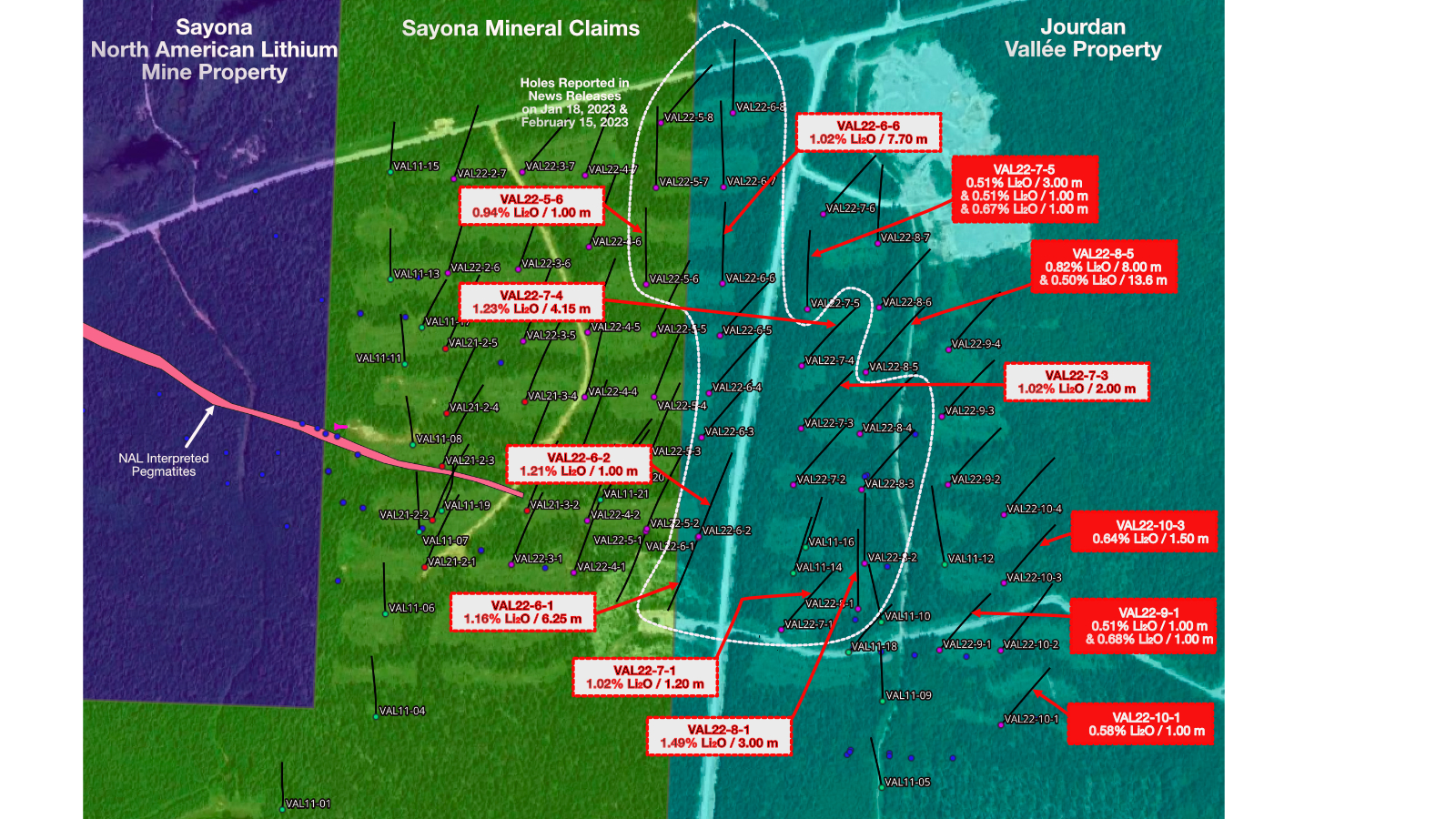 Figure 1: The Vallée property is immediately east of the NAL mine. This figure depicts the 2011, 2021 and 2022 completed drillholes with a total of 79 drillholes since 2011
Qualified Person
The scientific and technical information contained herein has been reviewed and approved by Alexandr Beloborodov, P.Geo., an independent consultant that is a "qualified person" as defined in National Instrument 43-101 – Standards of Disclosure for Mineral Projects.
About Jourdan Resources Inc.
Jourdan Resources Inc. is a Canadian junior mining exploration company trading under the symbol "JOR" on the TSX Venture Exchange and "2JR1" on the Stuttgart Stock Exchange. The Company is focused on the acquisition, exploration, production, and development of mining properties. The Company's properties are in Quebec, Canada, primarily in the spodumene-bearing pegmatites of the La Corne Batholith, around North American Lithium's Quebec lithium mine.
For more information:
Rene Bharti, Chief Executive Officer and President
Email: info@jourdaninc.com
Phone: (416) 861-5800
Cautionary statements
The content and grades of any mineral deposits at the Company's properties are conceptual in nature. There has been insufficient exploration to define a mineral resource on its properties and it is uncertain if further exploration will result in any target being delineated as a mineral resource.
Jourdan is not basing any production decisions on a feasibility study of mineral reserves demonstrating economic and technical viability at the Vallée lithium project, and as a result there is increased uncertainty and there are multiple technical and economic risks of failure which are associated with any such production decision. These risks, among others, include areas that are analysed in more detail in a feasibility study, such as applying economic analysis to resources and reserves and a number of specialized studies in areas such as mining and recovery methods, market analysis, and environmental and community impacts.
This press release contains "forward‑looking information" within the meaning of applicable Canadian securities legislation. Forward‑looking information includes, but is not limited to, statements with respect to the Company's planned 2023 exploration programs at its three properties, including the 20,000 m drilling program developed with NAL on a portion of Jourdan's Vallée project, NAL's plans to invest an additional $6 million in a portion of Jourdan's Vallée project, and the ability of the Company to transition from exploration to production in reliance on NAL's infrastructure and execute its business plan. Generally, forward‑looking information can be identified by the use of forward-looking terminology such as "plans", "expects" or "does not expect", "is expected", "budget", "scheduled", "estimates", "forecasts", "intends", "anticipates" or "does not anticipate", or "believes", or variations of such words and phrases or statements that certain actions, events or results "may", "could", "would", "might" or "will be taken", "occur" or "be achieved".  Forward‑looking information is subject to known and unknown risks, uncertainties and other factors that may cause the actual results, level of activity, performance or achievements of Jourdan to be materially different from those expressed or implied by such forward‑looking information, including but not limited to: receipt of necessary approvals; general business, economic, competitive, political and social uncertainties; future mineral prices and market demand; accidents, labour disputes and shortages and other risks of the mining industry. Although Jourdan has attempted to identify important factors that could cause actual results to differ materially from those contained in forward-looking information, there may be other factors that cause results not to be as anticipated, estimated or intended. There can be no assurance that such information will prove to be accurate, as actual results and future events could differ materially from those anticipated in such statements. Accordingly, readers should not place undue reliance on forward‑looking information. Jourdan does not undertake to update any forward-looking information, except in accordance with applicable securities laws.
NEITHER TSX VENTURE EXCHANGE NOR ITS REGULATION SERVICES PROVIDER (AS THAT TERM IS DEFINED IN THE POLICIES OF THE TSX VENTURE EXCHANGE) ACCEPTS RESPONSIBILITY FOR THE ADEQUACY OR ACCURACY OF THIS RELEASE.