Large scale and extensive drill program planned with the intent of defining a mineral resource base capable of supplying more tonnes and enhanced material quality to the North American Lithium concentrator
Jourdan and Sayona plan to undertake the largest lithium drill program in Quebec set to start in May 2023 
---
Toronto (Canada) – JOURDAN RESOURCES INC. (TSXV: JOR; OTCQB: JORF; FRA:2JR1) ("Jourdan" or the "Company") is pleased to announce that it and its partner, North American Lithium Inc. ("NAL", a majority owned subsidiary of Sayona Mining Ltd. ("Sayona"), have agreed to embark on an aggressive exploration and development program with the objective of expanding and defining sufficient mineral resources to supply increased tonnages to the NAL concentrator. The establishment of a mineral resource base at the Vallee property would support NAL's current open pit mine operation that holds the NAL concentrator located approximately 60 km north of Val D'Or, Quebec. NAL's concentrator commenced processing operations on February 27, 2023, and spodumene concentrate production is anticipated by Sayona to begin in March 2023 (for more information, please refer to Sayona's press release dated February, 27 2023).
To define mineral resources at the Vallee property, over 50,000 m of drilling is planned this year on both NAL's properties and the 28 claims that comprise that portion of Jourdan's adjacent Vallée lithium project (the "Earn-in Claims") that are the subject of an earn-in and joint venture agreement entered into between NAL and the Company in November 2022 (the "JV Agreement"). For more information about the JV Agreement and the Earn-in Claims, please see the Company's press release dated November 14, 2022, which is available under the Company's SEDAR profile at www.sedar.com. Over 24,000 m of drilling was jointly approved by NAL and Jourdan for the Earn-in Claims, which Jourdan ancitipates will be funded in part by the C$4 million previously deposited in escrow by NAL pursuant to the terms of the JV Agreement. Jourdan and Sayona believe that the upcoming drilling program will be one of the largest lithium drill programs in Quebec in 2023. The tender for drilling contractors has been launched and exploration permit applications needed to commence the first phase of the drill program that have not already been obtained are being prepared for submission. Both companies are planning to aggressively move forward to define and develop a mineral resource in the area to feed the NAL concentrator. Based on information provided by Sayona, management understands that the NAL concentrator remains on track to produce its first saleable lithium concentrate in late March 2023; both NAL and Jourdan aim to produce lithium concentrate through the NAL plant moving forward.
Sayona's Managing Director, Brett Lynch added: "Sayona is excited to be partnering with Jourdan as we undertake a large scale and extensive drill program at NAL and the Earn-in Claims. The combined drilling program will be undertaken in consultation with our local community stakeholders, to pursue a bigger mineral resource base and better grades in the Abitibi Hub capable of delivering increased ore tonnages to the NAL concentrator and a longer life-of-mine. With the production of saleable lithium concentrate at NAL only days away, this is an exciting time for Sayona and Quebec as we work to build what we believe to be the leading lithium production centre in North America."
Jourdan CEO and President, Rene Bharti commented: "This is a historic moment which truly showcases the strong partnership between Jourdan, NAL, and Sayona. With Jourdan having over 13,000 hectares of land surrounding NAL's project, the opportunity to partner with NAL and Sayona to accelerate Jourdan towards production is clear. Given that the NAL concentrator has commenced operations, Jourdan is in a very rare position to benefit from having access to what we expect will become Canada's leading lithium producing mine and concentrator. We are truly proud and honored at what we see as significant upside potential for both companies, in such a strong lithium environment."
Roger Lemaitre, VP Mining for Jourdan said: "We are extremely fortunate that NAL has restarted processing operations at its neighboring mine. Based on information provided by Sayona, together with our own results, we see that lithium mineralization has already been defined over an impressive 3.7 km of strike length, extending from the NAL pit and onto the Earn-in Claims. We believe that only additional definition drilling is necessary on the mineralized sections east of the current pit boundary to define a mineral resource on the Earn-in Claims. Given that we have 3,200 m of the approved program already permitted, we anticipate that this aggressive drill program will begin in the next few weeks."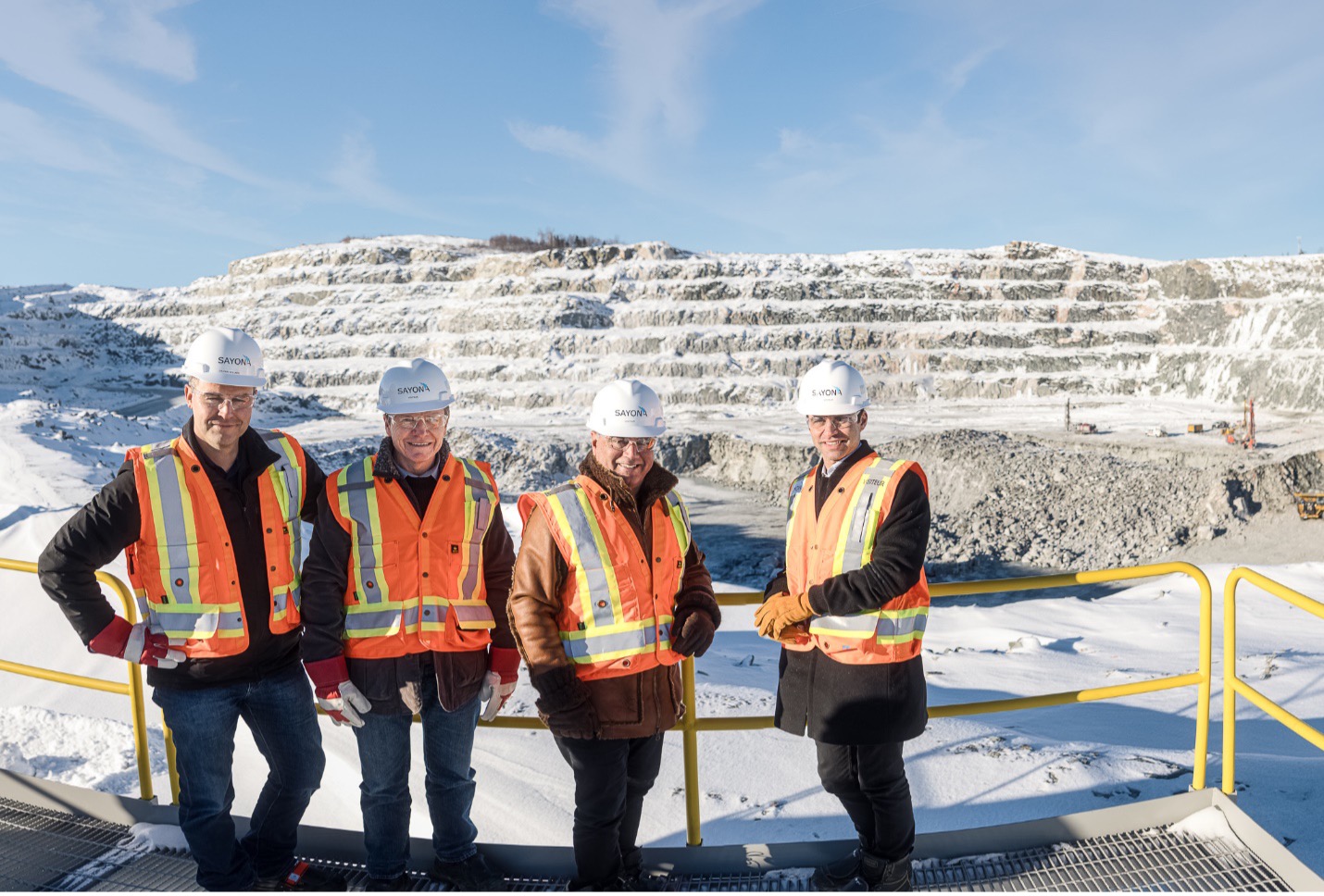 Figure 1. Left to right: Sylvain Collard (Sayona's Chief Operating Officer), Brett Lynch (Sayona's Managing Director), Stan Bharti (Jourdan's Director) and Rene Bharti (Jourdan's CEO) at the NAL open pit mine.
Qualified Person
The scientific and technical information contained herein has been reviewed and approved by Alexandr Beloborodov, P.Geo., an independent consultant that is a "qualified person" as defined in National Instrument 43-101 – Standards of Disclosure for Mineral Projects.
About Jourdan Resources Inc.
Jourdan Resources Inc. is a Canadian junior mining exploration company trading under the symbol "JOR" on the TSX Venture Exchange and "2JR1" on the Stuttgart Stock Exchange. The Company is focused on the acquisition, exploration, production, and development of mining properties. The Company's properties are in Quebec, Canada, primarily in the spodumene-bearing pegmatites of the La Corne Batholith, around North American Lithium's Quebec lithium mine.
About Sayona Mining Limited
Sayona Mining Limited is an emerging lithium producer (ASX: SYA; OTCQB: SYAXF), with projects in Québec, Canada and Western Australia.
In Québec, Sayona's assets comprise North American Lithium together with the Authier Lithium Project and its emerging Tansim Lithium Project, supported by a strategic partnership with American lithium developer Piedmont Lithium Inc. (Nasdaq: PLL; ASX: PLL). The company also holds a 60% stake in the Moblan Lithium Project in northern Québec.
In Western Australia, the company holds a large tenement portfolio in the Pilbara region prospective for gold and lithium. Sayona is exploring for Hemi-style gold targets in the world-class Pilbara region, while its lithium projects are subject to an earn-in agreement with Morella Corporation (ASX: 1MC).
For more information about Sayona, please visit us at www.sayonamining.com.au
For more information:
Rene Bharti, Jourdan's Chief Executive Officer and President
Email: info@jourdaninc.com
Phone: (416) 861-5800
www.consolidatedlithium.com
Cautionary statements
The content and grades of any mineral deposits at the Company's properties are conceptual in nature. There has been insufficient exploration to define a mineral resource on its properties and it is uncertain if further exploration will result in any target being delineated as a mineral resource. 
Jourdan is not basing any production decisions on a feasibility study of mineral reserves demonstrating economic and technical viability at the Vallée lithium project, and as a result there is increased uncertainty and there are multiple technical and economic risks of failure which are associated with any such production decision. These risks, among others, include areas that are analysed in more detail in a feasibility study, such as applying economic analysis to resources and reserves and a number of specialized studies in areas such as mining and recovery methods, market analysis, and environmental and community impacts.
This press release contains "forward‑looking information" within the meaning of applicable Canadian securities legislation. Forward‑looking information includes, but is not limited to, statements with respect to the 2023 exploration and development program planned by Jourdan and NAL, including its scope; the ability of the companies to commence the largest lithium drill program in Quebec in 2023, including to retain drilling contractors and obtain the requisite permits, to define or expand mineral resources on their properties, and to support NAL's open pit mine operation; NAL's ability to commence larger scale spodumene production at its processing facilities and to satisfy the conditions required for it to earn a 25% interest in the Earn-in Claims pursuant to the JV Agreement; and the Company's ability to execute its business plan. Generally, forward‑looking information can be identified by the use of forward-looking terminology such as "plans", "expects" or "does not expect", "is expected", "budget", "scheduled", "estimates", "forecasts", "intends", "anticipates" or "does not anticipate", or "believes", or variations of such words and phrases or statements that certain actions, events or results "may", "could", "would", "might" or "will be taken", "occur" or "be achieved".  Forward‑looking information is subject to known and unknown risks, uncertainties and other factors that may cause the actual results, level of activity, performance or achievements of Jourdan to be materially different from those expressed or implied by such forward‑looking information, including but not limited to: receipt of necessary approvals; general business, economic, competitive, political and social uncertainties; future mineral prices and market demand; accidents, labour disputes and shortages and other risks of the mining industry. Although Jourdan has attempted to identify important factors that could cause actual results to differ materially from those contained in forward-looking information, there may be other factors that cause results not to be as anticipated, estimated or intended. There can be no assurance that such information will prove to be accurate, as actual results and future events could differ materially from those anticipated in such statements. Accordingly, readers should not place undue reliance on forward‑looking information. Jourdan does not undertake to update any forward-looking information, except in accordance with applicable securities laws.
NEITHER TSX VENTURE EXCHANGE NOR ITS REGULATION SERVICES PROVIDER (AS THAT TERM IS DEFINED IN THE POLICIES OF THE TSX VENTURE EXCHANGE) ACCEPTS RESPONSIBILITY FOR THE ADEQUACY OR ACCURACY OF THIS RELEASE